Description
GOOD THINGS COME IN SMALL PACKAGES
THE ZOOM H1 
Handy Recorder
The ultra-compact H1 Handy Recorder brings new meaning to the term "portability." Small enough to slip in your pocket, it offers professional-quality stereo recording at an incredibly affordable price. Take it with you wherever you go—live concerts and band rehearsals, location video shoots, lectures and meetings—or use it to capture your musical ideas whenever inspiration strikes. 
Using the H1
You can count on your H1 to deliver pristine audio wherever you go. Here are just a few ways it can be used:
Recording live concerts and rehearsals.  
Capturing audio for video.   
Documenting lectures and meetings—faster and easier than taking notes!
Conducting interviews in the field.  
Capturing song ideas.   
Auto Level and low cut filter
The H1's Auto Level function sets input gain automatically to prevent
overload and distortion. Alternatively, input level can be set manually.
The H1 also provides a built-in low cut filter for the elimination of pops,
wind noise, blowing, and other kinds of low frequency rumble.
File types supported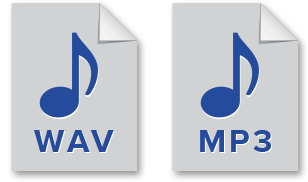 The H1 records audio in two different basic file types: WAV and MP3. The main difference between the two is that WAV files are uncompressed; that is, they contain all the recorded signal without any data being removed. The WAV files recorded by the H1 can be either 16- or 24-bit, with sampling rates of 44.1, 48, or 96kHz, and are automatically time-stamped, making them Broadcast Wave Format (BWF) compliant—especially important when recording audio for video since it allows for precise synchronization in post-production.
MP3 recordings are compressed, which means that some unnecessary data is removed prior to storage, making them much smaller than WAV files, and thus much easier to upload and download. Some MP3 files exhibit a slight loss of audio fidelity as compared with the original signal; however, this is not noticeable in all circumstances.
Stereo X/Y mic configuration captures perfect stereo images
Same frequency and SPL handling as popular Zoom H2
Records Broadcast WAV (BWF) at up to 24-bit/96kHz and MP3 up to 320 kbps
USB 2.0 port
Built-in reference speaker
Built-in tripod mount
1/8-inch external mic input and 1/8-inch stereo line output
One AA size battery allows 10 hours operation