Description
NEW. AND IMPROVED.   
ZOOM H4N PRO
Record cleaner, clearer, and closer than ever before.
Brilliant Four-Track Audio Recording for Music, Film, Podcasting, and Beyond
At Zoom we're always developing new ideas to improve the performance and function of our Handy Recorders. With the new H4n Pro, we've taken everything creators love about the H4n and brought it to the next level.
The H4n Pro isn't just improved, it's superior in every way. With advanced X/Y microphones, incredibly natural-sounding preamps, and a super-low noise floor, you can record everything from the Indy 500 to the fluttering of a hummingbird with extraordinary realism.  
Welcome to the new gold standard in field recording.
The Filmmaker's Favorite
The H4n Pro is packed with features that make it perfect for capturing audio for film. The onboard X/Y microphones deliver spectacular stereo imaging, and two combo input jacks allow you to use your favorite microphones as well. It also includes a headphone/line out jack to easily send high-definition stereo directly to your camera.
Supported File Types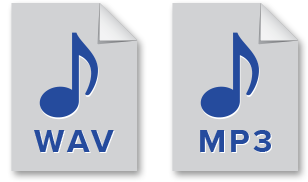 The Pro records audio in both WAV and MP3 formats. It supports 16- and 24-bit WAV audio at sampling rates of 44.1, 48, or 96 kHz. The WAV files are automatically time-stamped, making them Broadcast Wave Format (BWF) compliant, allowing precise synchronization in post-production.
Battery Life and Recording Times

The H4n Pro runs on 2 AA batteries, providing up to 6 hours in normal operation, or up to 10 hours when operating in STAMINA mode. An optional AD-14 AC adapter allows the H4n Pro to be powered from any standard wall outlet.
The H4n Pro accepts SD and SDHC cards up to 32 gigabytes. The charts below show maximum recording times for different file types and card sizes.
STEREO MODE

4 CHANNEL MODE

MTR MODE (monaural tracks)

Four-track simultaneous recording 
High-fidelity mic preamps
Built-in X/Y stereo microphones, adjustable between 90˚ and 120˚
Record up to 140 dB SPL with X/Y microphones
Two mic/line level inputs with XLR/TRS combo connectors 
Stereo 1/8″ Mic In mini phone jack
+24 or +48V phantom power for main inputs and Plug-in power (2.5V) via Mic/Line In mini phone jack
Output/headphone jack with dedicated volume control
New rubberized and ergonomic body with improved 1.9 inch backlit LCD display
Built-in reference speaker for fast playback
Records directly to SD and SDHC cards up to 32 GB
Supports up to 24-bit/96 kHz audio in BWF-compliant WAV or a variety of MP3 formats